Australian Senior Individual Tennis Championships
Please note: this is a past event
Past events are archived for future reference.
The prestigious Australian Seniors Championships will follow the Teams Carnival. This event is an ITF (Grade A) tournament, offering IPIN singles, doubles and mixed doubles events in 5 year age brackets from the age of 35 years. Team and individual entry details will be announced later in 2018.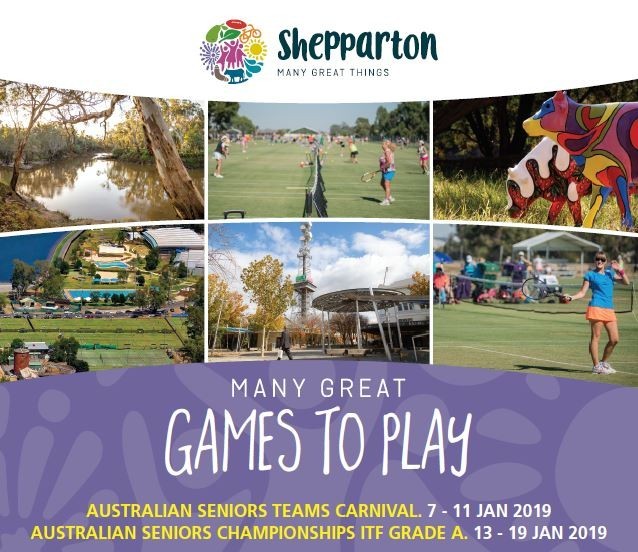 When:

Sunday 13th

, to Saturday 19th of January, 2019,

Where:

Shepparton Lawn Tennis Club, 196 Welsford St, Shepparton

Website:
This event is run in conjunction with the Australian Teams Carnival 7 – 11 January 2019. To find out more about this event CLICK HERE
Shepparton Lawn Tennis Club is one of Victoria's premier grass court tennis venues, with 22 grass courts. Set in a spectacular location adjacent to Victoria Park Lake and alongside the Goulburn River, the club is within walking distance to motels, hotels, caravan parks and central Shepparton.
For the teams' carnival in Mooroopna, the facility will be transformed from a sporting space to world class tennis courts.
Shepparton enquiries can be made to:
Robyn Castle at tennisseniorsnsw@bigpond.com
Ian Grose (Shepparton Lawn Tennis Club) M: 0418 531 399
Tournament Director - Arthur Olsen P: (02) 9816 4196 M: 0400 525 591
E: arthurolsen@bigpond.com
For all updates and information go to tennisseniors.org.au/nsw/sh19
Attachments