Shepparton Springnats
Please note: this is a past event
Past events are archived for future reference.
The Action is set to return on November 22 - 24 at the newly refurbished Shepparton Showgrounds.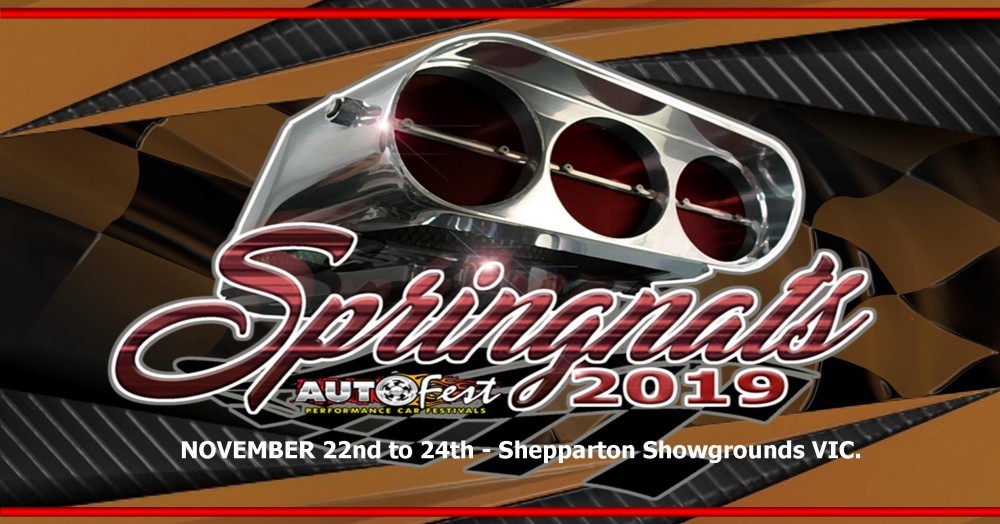 When:

Friday 22nd

, to Sunday 24th of November, 2019,

Where:

Shepparton Showgrounds

Contact:

Les Adama on 0417 511 557 or admin@autofest.com.au

Website:
This inclusions include; Friday nights "Autotek Expression Session" that proved a great success last year, nothing beats that Action under the lights, also the popular return of the "Aussie Hotel Supercruise" that will take place Saturday Afternoon then we return to again attack the track under lights back at the Showgrounds.
Saturday afternoon will also see the return of "the Unveiling's" that proved very popular and unbiased last year and if you would like to be part of this simple contact the office on 0417 511 557.
The Aussie Hotel is the OFFICIAL SPRINGNATS After Party Venue and will be open All Weekend to cater for participants and visitors alike so get yourselves pole position by booking a table with them by phoning 03 58 219 822.
Visitors to the Fryers Street precinct on Saturday afternoon will have the opportunity to view these machines at No Charge and we encourage all to make a day out in Shepparton to take in a little retail therapy before the fun and excitement the Shepparton Springnats.
To end Saturdays list of events will be the Official After Party back at the Aussie Hotel where all are invited to attend and enjoy the great atmosphere and entertainment that Paul and the Team have on offer.
Sunday will again see a full day of action with all of the finals including, Autokana, Corkscrew, Go To Whoa. final Show N Shine Judging and finishing off with the winner take all 27th Springnats Burnout Championships.
Other highlights include, the Jack Daniels Bar that will be open both Friday and Saturday nights, Springnats Indoor Show N Shine and much MORE.
So get your accommodation organised, car packed and bring your family and friends along to enjoy a weekend of Fun, Games and all the Action with all the other like minded enthusiasts that make the annual pilgrimage to the Shepparton Springnats.
More info including Entrant Forms are available at the AutoFest website.