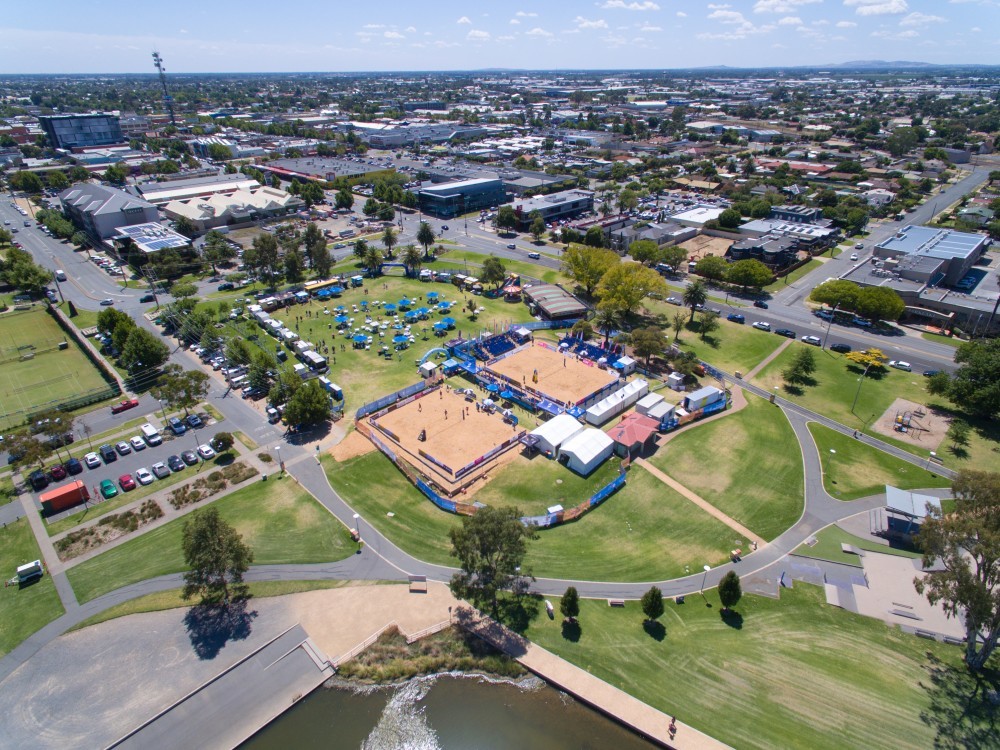 Generating close to $1million in economic stimulation to the local economy in direct and indirect benefit to local businesses and in profiling our city to the world via live television broadcasting.
Two temporary purpose-built courts and a warm-up court were constructed, and a 500-seat grandstand erected at the Victoria Park Lake precinct. Teams competed from 17 countries, with national and international TV and media exposure for Greater Shepparton. The USA won Gold in Men's, Australia silver and bronze with Germany fourth. In the Women's the USA were also gold winners with USA picking up silver, Italy the bronze and New Zealand fourth.
Greater Shepparton City Council Director Sustainability Geraldine Christou said "this event was a big success for Greater Shepparton. We had 19,000 visitors over the four days and a number of these visitors were from outside Greater Shepparton coming to experience the Volleyball and Food Truck Carnival. The Beach Volleyball World Tour helped position the city on a national and international scale. The volleyball was broadcast live for four hours on Fox Sports and Fox Sports Asia showcasing our region to millions of viewers".
"The feedback from the Greater Shepparton Visitor Information Centre onsite facility received a significant number of enquiries from visitors from outside of the region including from the broader region from townships like Cobram, Yarrawonga, Wodonga and Echuca, further intrastate such as Latrobe Valley, Melbourne and Geelong, interstate visitation from cities like Adelaide and Canberra and internationals visitation from USA, United Kingdom, France and Canada."
"We had over 20 local business involved in facilitating the Beach Volleyball World Tour and Food Truck Carnival creating a flow-on effect for accommodation, event suppliers and contractors, hospitality and entrainment, and media businesses.
"Local businesses with food vans or trucks also had the opportunity to get involved with the Food Truck Carnival. Mr Sheppy was onsite for the four days of the carnival along with a local coffee operator and local amusement provider with the local business Subway and the Aussie Hotel also providing catering services at the Beach Volleyball. Food trucks were used as a point of difference this year and to give crowds another reason for returning to the tournament. I want to thank everyone for supporting the Volleyball players and those that enjoyed the carnival atmosphere," said Ms Christou.
Quality Hotel Parklake General Manager Kelly Sullivan said "Many of the Volleyball participants stayed with us over the four days of competition. We had guests from the USA, Canada, New Zealand, Japan, Thailand, Fiji and many more countries. A large number of these guests also stay additional nights before and after the event".
"The event was really good for us, not only for the accommodation but also many guests eating breakfast, lunch and dinner onsite. We were also busy with locals dining in the restaurant or having drinks after watching the Volleyball. People were spending money not only at the Volleyball or Food Truck Carnival, they were also spending it in town".
"We were able to give our staff additional hours, which results in them spending money locally".
"Speaking to a number of volleyball players they found the town really welcoming and supportive including spectators that went to see them play."
"It is really important for Council to put on events like this, not only do accommodation businesses benefit, but other local businesses benefit from the flow on effect" said Ms Sullivan.
Cleaves Earthmoving Manager Steve Lamb said "we transported all the sand to Victoria Park Lake and we will also remove the sand it once the events are finished this weekend. This event was a good thing for the town and for local businesses".
"We have had to hire additional local sub-contractors to transport the sand to and from the site, so this event was great to support the local economy and it is always a great benefit for the community," said Mr Lamb.