Challenge Shepparton Triathlon
Based around Victoria Park Lake, but stretching as far out as Mooroopna and Toolamba. This 113km event includes a 1.95k swim, a 90k bike course, and a 21.1k run.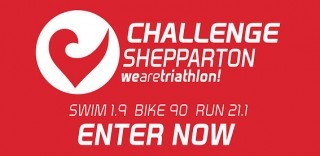 The second Challenge Shepparton triathlon will be held Sunday 15 November, taking part across Shepparton. Entrants will swim a 1.9km course in Victoria Park Lake, complete 2 laps of the 45k bike course through Mooroopna and Toolamba, and finish with 3 laps of the 7.03k track around the lake and through bushlands. Challenge Shepparton is renowned as one of the best athlete-friendly events in the national calendar.
Entry costs begin at $330 per person, with a prize pool totalling $20,000. For further information on costs and inclusions please see the Challenge Shepparton website.
The triathlon provides funding for numerous Goulburn Valley charities, community groups, and sporting clubs who provide volunteers on the day. So if you're not up for completing the course why not come down and support the entrants, and the volunteers. It's set to be a great day, and being mid November the weather should be perfect for getting out and about around the lake.