Shepparton Show Us Your Selfie 2014
Over the month of January, Shepparton Show Me ran a Facebook competition with a total of $2000 in prize money to be spent at any Shepparton business.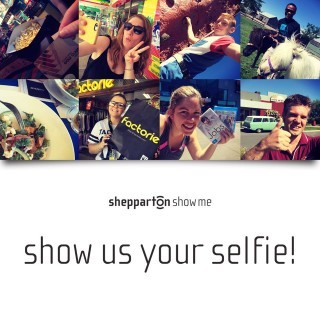 Take a selfie or family happy snap inside or in front of any Shepparton business then post the photo on the Shepparton Show Me Facebook Page for your chance to win a $1,500, $300 or $200 shopping spree in Shepparton.
Our very own Shepparton Show Me Co-Ordinator, Mat Innes-Irons will personally chose the top three most liked selfie submitters on a Shepparton Show Me shopping spree. The winner could buy anything from any Shepparton business to the value of the first, second or third prize.
The campaign called for shoppers to share where they were shopping, where they had found a bargain, where they were playing or where they were dining in Shepparton.
The more likes a selfie gets, the better the chance to win! People could submit as many selfies as they want but only the top voted selfie will be awarded if in the top three.
Competition closed at midnight on the 26th of January 2013 and winners were announced one week after closure.
Terms and Conditions can be found below.