Shepparton Show Me Dollars
Shepparton Show Me Dollars were provided from time to time as part of Sponsorship provision for various events. Dollars were won as part of competitions and winners visited participating Shepparton businesses to spend their share of Shepparton Show Me Dollars.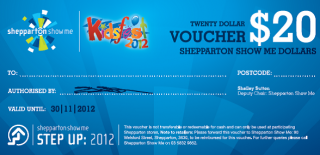 If a Shepparton business was presented with a Shepparton Show Me Dollar Voucher, the business would accept the Shepparton Show Me Dollars as payment for goods and send to Shepparton Show Me for reimbursement with a business card (so we know who to reimburse).
The closing date for reimbursement is 30th March 2013, therefore if you have any Show Me Dollars that you wish to claim please post these to:

Greater Shepparton City Council
Shepparton Show Me
Locked Bag 1000, Shepparton 3632
If your business is NOT currently set up as a supplier with the Greater Shepparton City Council, please contact email sheppartonshowme@shepparton.vic.gov.au for more information.