Twilight Fishing By The Lake
Bring the family, grab a picnic rug and chairs, and join us for a fabulous family night out!Everyone is welcome, and it's FREE!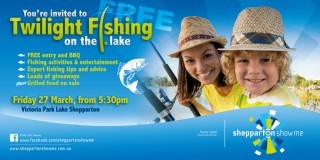 Fishing Activities and entertainment
Expert fishing tips and advice
Loads of giveaways
Plus Grilled food on sale!
Proudly created and presented by Shepparton Show Me.